Obama gets a Twitter @BarackObama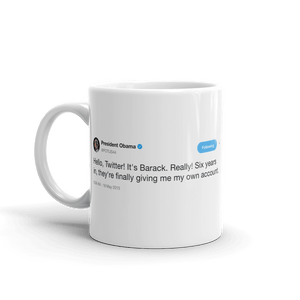 Obama gets a Twitter @BarackObama
Regular price
$19.98 + Free Shipping
Having a mugged tweet will make all your dreams come true. Every lottery you enter will make you richer. Clouds will turn into cotton candy. Your crush will fall in love with you. Hey, maybe your hair will even grow where you want it to this time. You'll be immortal. Guaranteed. Or your money back.
Please don't sue us, here's a cup of Joe---you're brew-tiful.
This sturdy mug is perfect for your morning coffee, afternoon tea, or whatever hot beverage you enjoy. It's glossy white and yields vivid prints that retain their quality when dish-washed and microwaved.
Ceramic
Available in an 11oz (325ml) size
Dishwasher and microwave safe
Quality handles for easy gripping
Printed in the USA
Mug Size: 4.75(with handle) x 3.75 inches (12.06 x 9.53 cm)

Weight: 0.95 lbs (0.43 kg)

FREE SHIPPING